0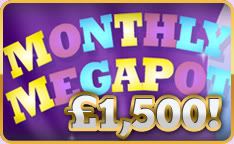 The Butler hosts his £1,500 MegaPot… Friday 23rd September 2011 at 10.00pm BST in the Friendship AND Harmony Rooms.
So, here's the list you have been waiting for – Are YOU one of the lucky players to receive some of The Butler's MegaPot Free Tickets?
angelandave
annabelle33
annaty
annie597
badpam123
Balloon99
ballyhi
bangtidy1980
benten1811
Blankpage79
blueribbon1
bogosse53
boodiddly
brenda20
brenda44
Bubbles17x
cherwoo66
chrisman123
christobelle
crazydazy
crissy8159
dalfy25fgmb
debbiebar
dede33
dekkyboy1
dellyparky
dls198421
dmoore5
dpenno83
farmer57
fitch212
flamehaired
flobatey1960
fvrverv
gagetdog1976
galen1
gokwanfan
greenacres
hampels
hansypansy1
heronclose
hippybingo
hiyakate
hotmummy256
icebear
Jacqui1112
jane4747
janie888
jaxxs33
jillps
jobell13
kaddouri
kamalya
karenwh1980
katag10
kaz3200
kerlie93
kes1773
kezzyx
KishaLo2311
ladyang
lianney87
lillypup
littlenav
lynseyrush
maragreen
maryone1
meerkatbabe
metalme666
mhodge2000
mikey6177
MissVamp
mommy65
monkey9111
morgane050
mrsmagpie68
mursmummy
myboykye2005
ninibt
NorfolkBroad
oddytoddy
ollieandrews
paula196645
pepperini
pepsmaxi34
pippamint
plopitsin
popstar841
porgina123
porkloin1
prettymisty
purplevix
quincyvb01
rosylina60
roycarol
sandybabes22
sarahdemo247
sarahjp001
sasbarella80
sazlemoz1
shanesmam39
sheilac64
shezzer20867
SHNOOKY09
shozandjoe
spuddy5423
Sqeaky_Won
stinkytink50
suzywoozy31
theknight2
tigerbob
Treackle7619
tsame08
tula65
unclewally16
unluckyd
vallio
vickyhsl
weejoan2
weetina86
welldeep1
wobbleheads
wolfcub46
xShellyCx
ziggy2808
You can even start earning you FREE tickets now for next months £1,500 megapot! You have to be in it to win it!! Good Luck!