1
The Butler and Astrid wish you all a Happy New Year for 2011 and good luck playing bingo and casino games and winning those ever so tempting JACKPOTS!!!!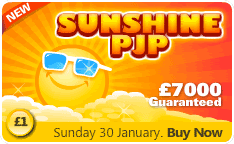 On Sunday 30th January The Butler has organised the £7,000 Sunshine PJP… it's a guaranteed jackpot:
7pm in Friendship Lounge
Buy 6 Tickets and get 6 tickets FREE!
Tickets are available to Advance Buy NOW…
Just LOGIN to the Butler's Bingo Lobby, Enter the Friendship Room, Click on Advanced Buy button, then buy your tickets and GLA.
For every player who played £30 or more on the Sunshine PJP since October 2009, The Butler has given away a FREE ticket into the £7,000 Sunshine PJP game on 30th January 2011…